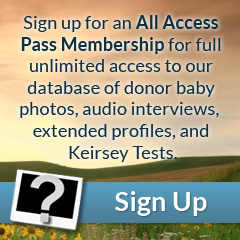 Eyes: Brown/Green
Hair: Brown
Height: 6'01"
Weight (lbs): 155
Blood: A Rh+
CMV: -
Ethnicity: Armenian, Caucasian, Czech, Slovakian
Jewish Ancestry: No
Education/Occupation: B.A. French / Student, Athlete
Live Birth / Pregnancy Confirmed: No
Extended Testing: Yes
Genetically tested for: View
As a collegiate cross country and track runner, Baxter has a runner's body; he is thin with long, lean muscles. He has a medium skin tone that is usually very tan due to his time spent running in the sun. Baxter has large, green/ brown eyes and straight brown hair.  He has a clean, clear complexion which shows the few freckles he has (which seem to become more prominent with time in the sun). With his broad smile and athletic build, Baxter is a very attractive young man.
Baxter always comes in smiling ear to ear and his jovial attitude is contagious. Baxter is naturally happy with a laid-back demeanor with his friends and family but at the same time is driven and goal oriented. He is very analytical but definitely has a sweet side and always does his best to improve himself and those around him. His goal in life is "to be remembered as somebody who had an impression on others and who made everything around him better." We love this attitude and believe it is one of the many characteristics that make Baxter a magnificent donor.