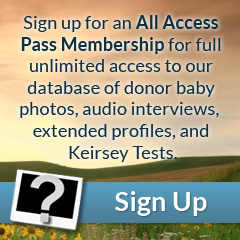 Eyes: Blue
Hair: Brown
Height: 6'04"
Weight (lbs): 190
Blood: A Rh+
CMV: +
Ethnicity: Caucasian, German, Irish
Jewish Ancestry: No
Education/Occupation: Master's Degree in Biomedical Informatics / Science and Math Tutor
Live Birth / Pregnancy Confirmed: Yes
Extended Testing: Yes
Genetically tested for: View
Benedict is tall with a lean, yet muscular build. He has wavy, brown hair that makes his blue eyes pop. He has full, pink lips that part to display a wide, warm smile. Benedict has rounded, symmetrical features. He is usually clean shaven, showing off his smooth complexion and light freckles on his nose and cheeks.
Benedict is athletic, artistic, and intelligent; truly a jack of all trades. He loves to draw and also played a variety of sports when he was younger, ran multiple marathons in college and currently enjoys rock climbing, weight lifting and biking. Benedict has a particular interest in biology and genetics and hopes to work on developing vaccines to combat disease outbreak in the future. Benedict is a sweet and caring person that is always ready to engage in thoughtful conversation and we truly believe he is an amazing donor!