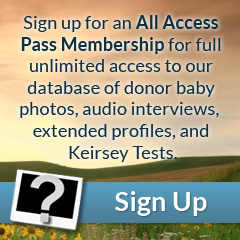 Eyes: Brown
Hair: Brown
Height: 6'00"
Weight (lbs): 167
Blood: O Rh+
CMV: -
Ethnicity: Irish, Italian, Spanish
Jewish Ancestry: No
Education/Occupation: Student- Business / Student Worker
Live Birth / Pregnancy Confirmed: Yes
Extended Testing: No
Genetically tested for: View
Broderick has clear, fair to medium skin that gets a deep tan in the summer. He has dark brown eyes, brown hair with a small widow's peak, a square face, handsome square jawline, slightly rounded nose, and a strong forehead. He has a medium build and is lean throughout with athletic shoulders, arms, and legs.
Broderick is a super focused, tenacious, hard-working student, and his university studies take number one priority in his life. He plans to graduate with degrees in Business Management and Accounting, and has big long-term goals to be a smart, successful business owner and a family man. He is a varsity athlete, enjoys exploring the city, and also plays guitar. He also has a great relationship with his family. If you are looking for someone who is motivated, dedicated and successful, Broderick would be a great choice for you!