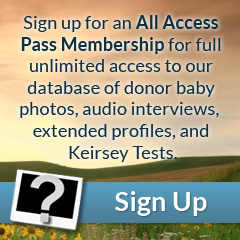 Eyes: Blue/Green
Hair: Dark Brown
Height: 6'03"
Weight (lbs): 205
Blood: O Rh+
CMV: +
Ethnicity: British, Caucasian, Dutch
Jewish Ancestry: No
Education/Occupation: MBA / Director of Sales Operations
Live Birth / Pregnancy Confirmed: Yes
Extended Testing: No
Genetically tested for: View
Bruce exudes charm, which is made all the more obvious by his fabulous South African accent. With blue-green eyes and chocolate-brown hair, Bruce makes for quite an attractive, distinguished donor. His skin tone is fair, and his complexion smooth and clear. Bruce stays in great shape by biking to most places and also swimming and hiking.
Thoughtful, intelligent, friendly, and calm, Bruce is always a cheery presence in our office. He is driven in the workplace but knows exactly when to let loose. He keeps in close touch with his family and absolutely loves to travel—he has been to quite a few countries already and does not plan on stopping anytime soon. Bruce is the complete package when it comes to donors.