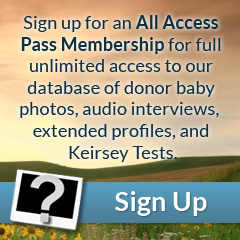 Eyes: Brown
Hair: Black
Height: 5'06"
Weight (lbs): 140
Blood: A Rh+
CMV: -
Ethnicity: Mix, Bolivian, English, Native American
Jewish Ancestry: No
Education/Occupation: B.A. Visual Art/Printmaking / Receptionist/Construction
Live Birth / Pregnancy Confirmed: No
Extended Testing: No
Genetically tested for: View
Carlos has a medium skin tone that meshes perfectly with his dark hair and eyes. Big, wide, and shaped like almonds, Carlos' eyes are one his best features. When he smiles, his eyes sparkle. He has a defined chin and full lips. His nose is straight, and his facial features are all proportionate. Carlos is slender with a slightly narrow frame. He is truly attractive.
Carlos loves art, as he grew up with an artistic family. He enjoys creating and building and designing almost anything. He also possesses musical talent, producing some of his own pieces. Carlos carries himself with a relaxed confidence and has the ability to put those around him at ease. He is well-rounded and a pleasure to be around.