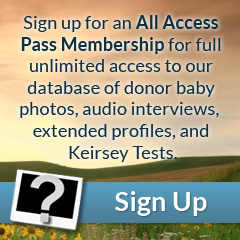 Eyes: Blue
Hair: Brown
Height: 6'03"
Weight (lbs): 200
Blood: A Rh+
CMV: -
Ethnicity: Caucasian, English, German, Irish, Norwegian
Jewish Ancestry: No
Education/Occupation: B.S. Biology/ Wait list recommended / Investment Analyst
Live Birth / Pregnancy Confirmed: No
Extended Testing: No
Genetically tested for: View
Clarke has beautiful blue eyes and wavy brown hair. He always has a smile on his face complimented by his great teeth. Clarke is tall and well muscled. He is incredibly active and can be found in the gym most days. He also likes to do inline skating involving complicated tricks. In high school Clarke was a runner and a soccer player. Clarke usually wears business casual clothing or gym shorts with t-shirts.
Clarke has a big personality and a great sense of humor. He is chatty and gregarious with a genuine interest in getting to know people. Clarke is highly intelligent, articulate, and an Ivy League graduate. Clarke describes himself as passionate, honest, reliable, competitive, and thoughtful. We completely agree with him and think charming and cheerful should be added to his list!