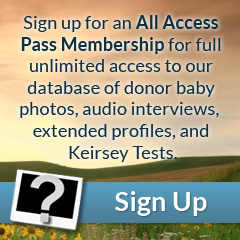 Eyes: Blue
Hair: Blonde
Height: 5'10"
Weight (lbs): 165
Blood: A Rh+
CMV: +
Ethnicity: Caucasian, English, German
Jewish Ancestry: No
Education/Occupation: High School / Personal Banker
Live Birth / Pregnancy Confirmed: Yes
Extended Testing: Yes
Genetically tested for: View
Cody has a muscular build with great definition, a result of his active lifestyle and regular weight training. He has straight blonde hair that is complemented by blue eyes and a fair, smooth complexion. Cody is usually clean to show off his full, pink lips and bright, wide smile. All these features make Cody an attractive young man.
Cody is extremely intelligent, working a variety of roles in the financial industry. He is extremely driven, striving to make progress in his career every day. While very motivated in his career, he is also easy going and easy to get along with. Cody is outgoing, reliable, genuine and a good conversationalist. Our favorite thing about Cody is how close he is with his family and how much they've shaped the amazing person he is today.
Genetic Testing
Over the years, we have expanded our genetic testing of donors as genetic knowledge and technology have advanced. As a result, not all donors have been tested for the same conditions or with the same methods. All donors have undergone genetic testing for Cystic Fibrosis, Spinal Muscular Atrophy and Karyotyping.  However, many donors have had more extensive testing performed.
This donor has been evaluated for carrier status of the listed conditions. A negative result reduces, but does not eliminate, the likelihood of the donor being a carrier. If you are a known carrier of a genetic condition please contact us, and we will provide a copy of the donor's test reports to your physician and/or genetic counselor.