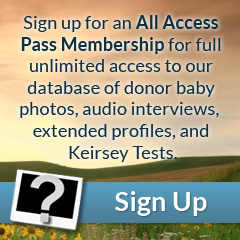 Eyes: Brown
Hair: Dark Brown
Height: 6'00"
Weight (lbs): 165
Blood: A Rh-
CMV: +
Ethnicity: German, Irish, Swedish
Jewish Ancestry: No
Education/Occupation: BA Business Management / Student
Live Birth / Pregnancy Confirmed: Yes
Extended Testing: No
Genetically tested for: View
Corbin is a handsome guy! He stands at 6 feet 0 inches with slightly wavy dark hair and dark eyes. His skin tans beautifully to a rich brown color. Corbin is an avid cyclist and has a great lean and sleek physique. He has a gorgeous smile and full pink lips guaranteed to grab your attention.
Corbin is charming and sweet. He is outgoing however at first he is a little shy and quiet. Corbin is a musician and is currently working on delving deeper into song-writing in his spare time. We asked Corbin what he was most proud of and he responded, "I'm most proud of leaving my original birthplace, friends and family to move across the country with only my dog and a few possessions to start a new life. This was something I'd imagined doing for years before I found the gumption to do it. I'm proud that I embraced the unknown and completely left any semblance of comfort. I think I'm a better person for it." We enjoy working with Corbin and we think you will too.