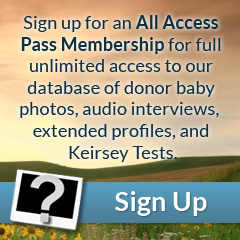 Eyes: Blue/Green
Hair: Light Brown
Height: 6'00"
Weight (lbs): 200
Blood: O Rh+
CMV: +
Ethnicity: Caucasian, English, Irish, Swedish
Jewish Ancestry: No
Education/Occupation: BA Education / Teacher
Live Birth / Pregnancy Confirmed: No
Extended Testing: Yes
Genetically tested for: View
Earl is 6'0" even and has a medium to large build with a strong upper body. He has straight, light brown hair and a full beard, both of which he keeps trimmed short. Earl has a smooth, medium complexion, bright blue/green eyes, and as strong jawline. He comes across as very friendly and outgoing, and has charming good looks.
Earl is intelligent, hard-working and sensitive. He is very altruistic, compassionate, and apt at intuiting people's emotions and feelings. Ear is inquisitive by nature, always looking to learn new things and eager to share his knowledge with others. His desire to give back to his community is likely what led him to a career in teaching, as well as motivate him to become a donor. Earl is a truly special and caring individual, and we think he'd be a great donor for any family!
Genetic Testing
Over the years, we have expanded our genetic testing of donors as genetic knowledge and technology have advanced. As a result, not all donors have been tested for the same conditions or with the same methods. All donors have undergone genetic testing for Cystic Fibrosis, Spinal Muscular Atrophy and Karyotyping.  However, many donors have had more extensive testing performed.
This donor has been evaluated for carrier status of the listed conditions. A negative result reduces, but does not eliminate, the likelihood of the donor being a carrier. If you are a known carrier of a genetic condition please contact us, and we will provide a copy of the donor's test reports to your physician and/or genetic counselor.