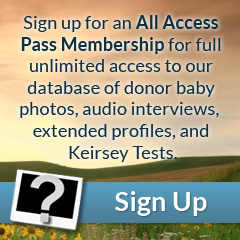 Eyes: Brown
Hair: Dark Brown
Height: 5'10"
Weight (lbs): 175
Blood: O Rh+
CMV: +
Ethnicity: British, Caucasian, French, German, Scandinavian
Jewish Ancestry: Yes
Education/Occupation: M.S. Micro and Molecular Biology / U.S. Navy - Obtaining M.S. in Immunology/Animal and Vet Sciences
Live Birth / Pregnancy Confirmed: No
Donor Description
Greer is a true gentleman who emanates charm and confidence in addition to being humble, intelligent, and approachable. Greer has a narrow face with angular features and a square chin. His complexion is smooth and flawless with a light tan skin tone. His dark hair, which he wears short and tidy, compliment his chestnut brown eyes nicely. He is naturally very lean, but he also lives a healthy lifestyle with plenty of exercise and a healthy diet.
Greer grew up on a ranch and when he left home, he served in the Navy Medical Corps. He is currently a med student who does an impressive job handling the stresses of medical school while staying remarkably optimistic and laid back. When he is not in class, at the medical center, or studying, he enjoys the calm and quiet time spent outdoors fly-fishing.
Greer is a gentle and compassionate person whose goals for the future include having a family he spends lots of quality time with. He is excited to be able to help others achieve the same dream for their families.