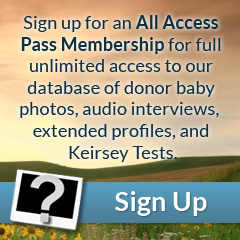 Eyes: Blue
Hair: Brown
Height: 6'01"
Weight (lbs): 210
Blood: A Rh+
CMV: +
Ethnicity: Caucasian, German, Polish
Jewish Ancestry: No
Education/Occupation: Some college, Mathematics / Landscaper
Live Birth / Pregnancy Confirmed: No
Extended Testing: Yes
Genetically tested for: View
Harold has a rugged, outdoorsy look about him, with full, thick, light brown hair, a blonde-brown beard, and a large frame with broad shoulders and big, muscular arms. He has bold blue eyes, a medium, rosy-toned complexion, and a rounded face.
Harold grew up in a huge, creatively-inclined family, and is very close with everybody. He comes from a long line of singers, film makers, and artists. He too is particularly interested in drawing and screenwriting, although his academic career was mostly in Mathematics. Harold has a friendly, laid-back, demeanor and a great sense of humor. We think he's a great donor!
Genetic Testing
Over the years, we have expanded our genetic testing of donors as genetic knowledge and technology have advanced. As a result, not all donors have been tested for the same conditions or with the same methods. All donors have undergone genetic testing for Cystic Fibrosis, Spinal Muscular Atrophy and Karyotyping.  However, many donors have had more extensive testing performed.
This donor has been evaluated for carrier status of the listed conditions. A negative result reduces, but does not eliminate, the likelihood of the donor being a carrier. If you are a known carrier of a genetic condition please contact us, and we will provide a copy of the donor's test reports to your physician and/or genetic counselor.