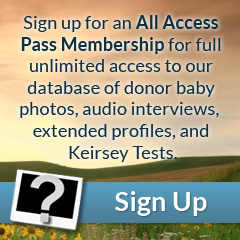 Eyes: Blue
Hair: Brown
Height: 6'01"
Weight (lbs): 210
Blood: A Rh+
CMV: +
Ethnicity: Caucasian, German, Polish
Jewish Ancestry: No
Education/Occupation: Some college, Mathematics / Landscaper
Live Birth / Pregnancy Confirmed: No
Extended Testing: Yes
Genetically tested for: View
Harold has a rugged, outdoorsy look about him, with full, thick, light brown hair, a blonde-brown beard, and a large frame with broad shoulders and big, muscular arms. He has bold blue eyes, a medium, rosy-toned complexion, and a rounded face.
Harold grew up in a huge, creatively-inclined family, and is very close with everybody. He comes from a long line of singers, film makers, and artists. He too is particularly interested in drawing and screenwriting, although his academic career was mostly in Mathematics. Harold has a friendly, laid-back, demeanor and a great sense of humor. We think he's a great donor!