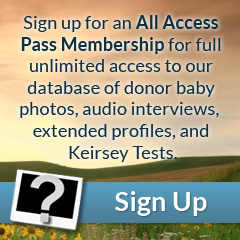 Eyes: Brown/Green
Hair: Brown
Height: 5'11"
Weight (lbs): 230
Blood: A Rh+
CMV: -
Ethnicity: Mix, Irish, Puerto Rican, Swiss
Jewish Ancestry: No
Education/Occupation: M.D. / Emergency Room Doctor
Live Birth / Pregnancy Confirmed: No
Extended Testing: Yes
Genetically tested for: View
Jared has muscular arms and hands; no doubt a result of his career as an emergency room doctor.  He has green/brown eyes and dark brown hair. Jared is always clean shaven with a fair toned, smooth complexion. He has bright white teeth and a wide smile, which he shows off every time he comes in. He has successfully completed three marathons and still runs occasionally to keep up his cardio fitness.
Jared is very intelligent and dedicated; attributes he needed to become a physician and learn three other languages. We love that he is an amazing father and takes great pride in his children and their accomplishments. When asked why he wants to be a donor, Jared answered, "To help people have great kids like mine." Jared is a great donor that is funny, dependable, and compassionate.