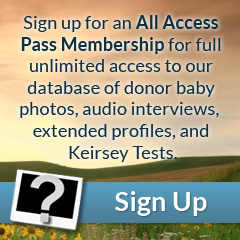 Eyes: Blue/Green
Hair: Brown
Height: 5'11"
Weight (lbs): 145
Blood: O Rh+
CMV: +
Ethnicity: Caucasian, English, Swedish
Jewish Ancestry: No
Education/Occupation: B.A. Early Childhood Education / Building Maintenance
Live Birth / Pregnancy Confirmed: Yes
Extended Testing: Yes
Genetically tested for: View
Malcolm has entrancing eyes that glimmer with kindness. He is adorable and has a sweet shy smile. His skin tone is fair and has a slightly ruddy tinge. Malcolm has a cute button nose that compliments his delicate features well. He has a thin build and lifts weights to maintain his muscular definition. He dresses in dark t-shirts and jeans.
Malcolm can be quiet and introspective. He has a tranquil demeanor and is very laid back. Malcolm is a proud nerd and loves to play dungeons and dragons with his friends as it allows him a great opportunity to be creative. He is also an avid convention go-er and likes to collect sci-fi items. We asked Malcolm to describe some of his strong sides and he said, "I can prioritize very well, people recognize that I am well-organized. I am punctual, people think of me when they need someone reliable." We also think his good will and sweetness should be touted as a strong side!