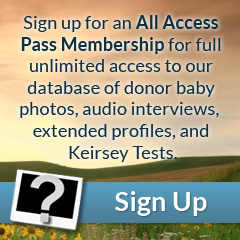 Eyes: Brown
Hair: Black
Height: 5'07"
Weight (lbs): 123
Blood: O Rh+
CMV: +
Ethnicity: Asian, Japanese
Jewish Ancestry: No
Education/Occupation: B.A. Linguistics / Student
Live Birth / Pregnancy Confirmed: Yes
Test Results
Extended Testing: No
Carrier For:

No disease causing mutations detected

Results for Karyotyping / Spinal Muscular Atrophy:
Results with No Disease Causing Mutations: View full list
Donor Description
Masaki was born in Japan and now calls the US his home.  He has a Baccalaureate degree in Linguistics from a prestigious University and works currently as a translator for those in need.  He enjoys music very much and plays multiple instruments, including the: piano, guitar, and trumpet.
Masaki has a naturally lean physique and dresses business casual.  He has strait black hair and dark brown eyes with a perfect complexion.
He is very friendly and respectful.  He is reliable and accountable, something we value highly for donors in our Open ID program.
When we asked Masaki what he is most proud of he responded, "I'm proud of what I am.  Now I am myself thanks to people I have met and things I have experienced, so I think the existence of myself currently is proof of people and things around me in this world."