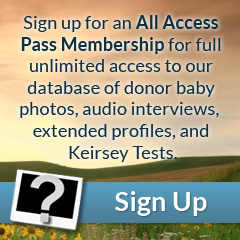 Eyes: Brown/Green
Hair: Brown
Height: 6'03"
Weight (lbs): 170
Blood: O Rh+
CMV: -
Ethnicity: Caucasian, English, German, Irish, Scottish
Jewish Ancestry: No
Education/Occupation: B.S. Mathematics / Full Time Student
Live Birth / Pregnancy Confirmed: Yes
Extended Testing: Yes
Genetically tested for: View
Miles' friendly smile and laid back attitude are the first thing you notice upon meeting him. He has a fit, slim frame. His green brown eyes and thick wavy brown hair suit him perfectly. Miles' sports a clean cut look with clear, fair skin and a strong profile.
He is extremely intelligent, excelling in academics, especially mathematics. Miles is a very well-spoken man which he supplements by being an avid reader and movie buff. He loves to cook and enjoys watching and playing golf. Miles loves his family and credits his good nature to his caring parents. He is smart, attractive and good-hearted.
Genetic Testing
Over the years, we have expanded our genetic testing of donors as genetic knowledge and technology have advanced. As a result, not all donors have been tested for the same conditions or with the same methods. All donors have undergone genetic testing for Cystic Fibrosis, Spinal Muscular Atrophy and Karyotyping.  However, many donors have had more extensive testing performed.
This donor has been evaluated for carrier status of the listed conditions. A negative result reduces, but does not eliminate, the likelihood of the donor being a carrier. If you are a known carrier of a genetic condition please contact us, and we will provide a copy of the donor's test reports to your physician and/or genetic counselor.