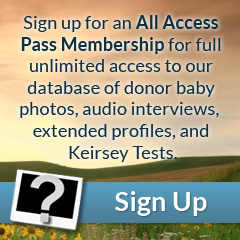 Eyes: Brown/Green
Hair: Brown
Height: 6'03"
Weight (lbs): 170
Blood: O Rh+
CMV: -
Ethnicity: Caucasian, English, German, Irish, Scottish
Jewish Ancestry: No
Education/Occupation: B.S. Mathematics / Full Time Student
Live Birth / Pregnancy Confirmed: Yes
Extended Testing: Yes
Genetically tested for: View
Miles' friendly smile and laid back attitude are the first thing you notice upon meeting him. He has a fit, slim frame. His green brown eyes and thick wavy brown hair suit him perfectly. Miles' sports a clean cut look with clear, fair skin and a strong profile.
He is extremely intelligent, excelling in academics, especially mathematics. Miles is a very well-spoken man which he supplements by being an avid reader and movie buff. He loves to cook and enjoys watching and playing golf. Miles loves his family and credits his good nature to his caring parents. He is smart, attractive and good-hearted.