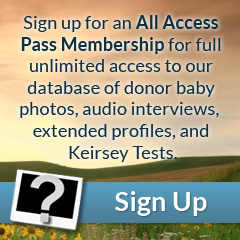 Eyes: Blue
Hair: Strawberry Blonde
Height: 5'10"
Weight (lbs): 155
Blood: O Rh+
CMV: +
Ethnicity: Caucasian, German, Italian, Polish, Swedish
Jewish Ancestry: No
Education/Occupation: BS Anthropology / Events Coordinator
Live Birth / Pregnancy Confirmed: No
Extended Testing: Yes
Genetically tested for: View
Perry has a round face, straight nose, and soulful eyes. His caring smile and welcoming demeanor make you feel like you are with an old friend.  Perry has broad shoulders and a slim frame. He keeps active by cycling and hiking around the beautiful PNW.
Perry is extremely artistic. His passion in life is to the bring art to the world. Whether that be putting pen to paper, playing piano, or sketching. Perry is not afraid to be himself and to live the life that makes him most happy. He is a grateful, caring man that loves his family and friends.
Genetic Testing
Over the years, we have expanded our genetic testing of donors as genetic knowledge and technology have advanced. As a result, not all donors have been tested for the same conditions or with the same methods. All donors have undergone genetic testing for Cystic Fibrosis, Spinal Muscular Atrophy and Karyotyping.  However, many donors have had more extensive testing performed.
This donor has been evaluated for carrier status of the listed conditions. A negative result reduces, but does not eliminate, the likelihood of the donor being a carrier. If you are a known carrier of a genetic condition please contact us, and we will provide a copy of the donor's test reports to your physician and/or genetic counselor.