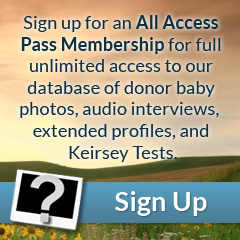 Eyes: Blue
Hair: Light Brown
Height: 5'10"
Weight (lbs): 170
Blood: A Rh+
CMV: +
Ethnicity: British, Caucasian, German, Scottish
Jewish Ancestry: No
Education/Occupation: B.A. Animation and Digital Design / Student
Live Birth / Pregnancy Confirmed: Yes
Extended Testing: No
Genetically tested for: View
Ranger has striking masculine features. He has a strong pointed chin and dark brown facial hair. He has big blue eyes and a cute small mouth. He has light brown hair streaked with golden blonde highlights. He has light skin with a small smattering of freckles around his nose. Ranger is very physically fit and is a black belt martial artist. He is typically dressed in jeans or khaki's with a dark shirt, motorcycle jacket, and his helmet in hand.
Calm, cool, and collected are great descriptors for Ranger. He is outgoing and amiable. He is very good at sports and has been teaching martial arts for several years, demonstrating his exceptional leadership skills. Ranger is kind hearted and artistic. We asked Ranger to describe a few of his strong and weak sides. He mentioned that he is physically, mentally, and spiritually strong and is open to all kinds of ideas. He notes that a weak side for him is that he is not quick to anger, but is troubled easily. We like Ranger's open nature and even temper.