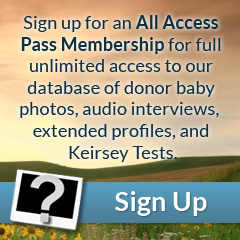 Eyes: Blue
Hair: Brown
Height: 5'10"
Weight (lbs): 160
Blood: A Rh+
CMV: +
Ethnicity: Caucasian, English, Irish, Native American
Jewish Ancestry: No
Education/Occupation: BS Economics & Mathematics, MA Economics & Mathematics / Rowing Coach, Math Tutor, Professional Athlete; Rowing
Live Birth / Pregnancy Confirmed: Yes
Extended Testing: Yes
Genetically tested for: View
Samuel is an elite athlete that maintains his goals with intense focus and hard work.  This donor is an accomplished and sponsored rower.  He is in amazing physical shape as he works hard to maintain and build strength, while the physical attributes come along for the ride.
This donor is introspective and polite.  He is easy to engage in conversation with and is a sociable individual.
In addition to his professional athlete status, he also coaches others in Crew and tutors students in mathematics.  He is pursuing a master's degree in Economics and Mathematics.  With these outstanding credentials it is easy to see that this donor is quite a catch.
Samuel maintains a wonderful outlook on life and is confident yet humble.  He has brown hair and icy light blue eyes.  He has a great smile and fair complexion.  Usually dressed ready for athletics this donor has a laid back and athletic style.
Genetic Testing
Over the years, we have expanded our genetic testing of donors as genetic knowledge and technology have advanced. As a result, not all donors have been tested for the same conditions or with the same methods. All donors have undergone genetic testing for Cystic Fibrosis, Spinal Muscular Atrophy and Karyotyping.  However, many donors have had more extensive testing performed.
This donor has been evaluated for carrier status of the listed conditions. A negative result reduces, but does not eliminate, the likelihood of the donor being a carrier. If you are a known carrier of a genetic condition please contact us, and we will provide a copy of the donor's test reports to your physician and/or genetic counselor.