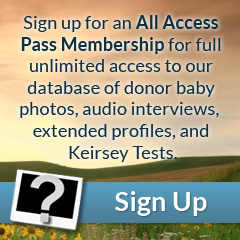 Eyes: Brown
Hair: Black
Height: 6'01"
Weight (lbs): 173
Blood: O Rh+
CMV: +
Ethnicity: Caucasian, French, Irish, Native American, Polish, Scottish
Jewish Ancestry: No
Education/Occupation: B.S. Nursing / Student
Live Birth / Pregnancy Confirmed: No
Extended Testing: Yes
Genetically tested for: View
Seth stands 6'1" tall with an athletic build. His medium skin tone is complemented by his beautiful brown eyes and straight, rich black hair that always seems to shine. He keeps his physique in shape by weight lifting and circuit training as well as spending time outdoors hiking. Although it is obvious he cares about his appearance, Seth comes across on the humble side. He always has a refreshing smile on his face, which we are delighted to see.
Seth served our country in the military but is now focused on completing his degree in nursing which is not a surprise given his warm, friendly, and compassionate demeanor presented to us on every visit. He comes across as a kind-hearted and honorable man who would do anything for his friends and family and is filled with integrity. On the weekends, Seth always seems to seek adventure with his friends. Whether it is traveling to the beach for some well-deserved downtime or riding his motorcycle on the highways throughout neighboring states, we are always excited to hear about where he has gone and what he is up to next!