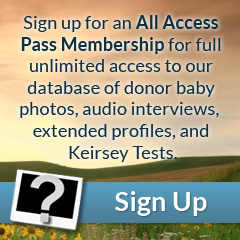 Eyes: Brown
Hair: Black
Height: 6'02"
Weight (lbs): 165
Blood: B Rh+
CMV: -
Ethnicity: Mix, Asian, Irish, Japanese, Scottish
Jewish Ancestry: No
Education/Occupation: MS, Chemistry / Research Assistant
Live Birth / Pregnancy Confirmed: Yes
Extended Testing: Yes
Genetically tested for: View
Sonny Staff Impression
Sonny is tall and has a long, lean build. He has predominately Asian facial features from him mother's side, including handsome dark, almond eyes, a smooth, tan complexion, and thick black hair. He has a long, oval face and an awesome smile.
Sonny is an all-around great combination of smart, creative, and caring. He is currently in school getting his PhD in Organic Chemistry, and also teaches chemistry classes at his university. He has a lot of creative and mechanical hobbies that he inherited from his family, including auto and motorcycle repair, latch work, and needlepoint. He is self-described as a compassionate, supportive individual who keeps a very close inner circle of friends and loved ones. We think Sonny is a truly fantastic donor!
Genetic Testing
Over the years, we have expanded our genetic testing of donors as genetic knowledge and technology have advanced. As a result, not all donors have been tested for the same conditions or with the same methods. All donors have undergone genetic testing for Cystic Fibrosis, Spinal Muscular Atrophy and Karyotyping.  However, many donors have had more extensive testing performed.
This donor has been evaluated for carrier status of the listed conditions. A negative result reduces, but does not eliminate, the likelihood of the donor being a carrier. If you are a known carrier of a genetic condition please contact us, and we will provide a copy of the donor's test reports to your physician and/or genetic counselor.