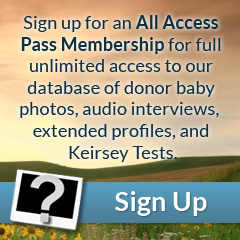 Eyes: Blue/Green
Hair: Dark Brown
Height: 6'03"
Weight (lbs): 155
Blood: O Rh+
CMV: -
Ethnicity: Caucasian, German, Irish, Italian
Jewish Ancestry: Yes
Education/Occupation: BA Marketing / Marketing Adviser, Legal Aid
Live Birth / Pregnancy Confirmed: No
Extended Testing: Yes
Genetically tested for: View
Theo has a definite 'rock star' vibe when it comes to his appearance- he is tall and slender, dresses super trendy, and has an ultra-stylish hair cut which certainly compliments his unique character. Theo has a long, oval face, a slender nose, large eyes, high cheekbones, and a strong forehead. He is for sure a very hip and handsome guy!
Theo is best described as cerebral, intellectual, inquisitive, and analytical. He seems to have consistent quest for knowledge, studying a diverse variety of topics and having a unique set of interests and talents. He is very artistically inclined, while also being mechanically and mathematically apt. Theo is self-described as an introvert, but has no problem carrying on in conversation, and is well-suited for his career in Marketing in his ability to communicate and express complex ideas. We love how unique and talented Theo is, and we think he'd be a great donor for any family!