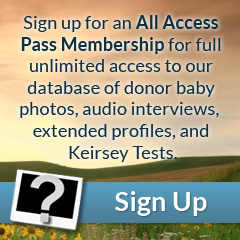 Eyes: Blue/Green
Hair: Dark Brown
Height: 6'03"
Weight (lbs): 155
Blood: O Rh+
CMV: -
Ethnicity: Caucasian, German, Irish, Italian
Jewish Ancestry: Yes
Education/Occupation: BA Marketing / Marketing Adviser, Legal Aid
Live Birth / Pregnancy Confirmed: No
Extended Testing: Yes
Genetically tested for: View
Theo has a definite 'rock star' vibe when it comes to his appearance- he is tall and slender, dresses super trendy, and has an ultra-stylish hair cut which certainly compliments his unique character. Theo has a long, oval face, a slender nose, large eyes, high cheekbones, and a strong forehead. He is for sure a very hip and handsome guy!
Theo is best described as cerebral, intellectual, inquisitive, and analytical. He seems to have consistent quest for knowledge, studying a diverse variety of topics and having a unique set of interests and talents. He is very artistically inclined, while also being mechanically and mathematically apt. Theo is self-described as an introvert, but has no problem carrying on in conversation, and is well-suited for his career in Marketing in his ability to communicate and express complex ideas. We love how unique and talented Theo is, and we think he'd be a great donor for any family!
Genetic Testing
Over the years, we have expanded our genetic testing of donors as genetic knowledge and technology have advanced. As a result, not all donors have been tested for the same conditions or with the same methods. All donors have undergone genetic testing for Cystic Fibrosis, Spinal Muscular Atrophy and Karyotyping.  However, many donors have had more extensive testing performed.
This donor has been evaluated for carrier status of the listed conditions. A negative result reduces, but does not eliminate, the likelihood of the donor being a carrier. If you are a known carrier of a genetic condition please contact us, and we will provide a copy of the donor's test reports to your physician and/or genetic counselor.