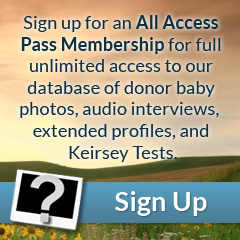 Eyes: Brown/Green
Hair: Light Brown
Height: 6'01"
Weight (lbs): 180
Blood: O Rh+
CMV: -
Ethnicity: Caucasian, English, French, German, Italian, Scottish
Jewish Ancestry: No
Education/Occupation: B.A. Business / Student, Busser
Live Birth / Pregnancy Confirmed: Yes
Extended Testing: Yes
Genetically tested for: View
Vance has an athletic build standing six foot one inch tall with dirty blonde hair and green-brown eyes. He has striking facial features and a beautiful, welcoming smile which contribute to him being described as a handsome donor with a distinguished look. Although he can be slightly reserved upon first meeting, he opens up easily to all and has a personality that really shines! He's extremely kind and respectful with an outgoing and adventurous side making him quite unique.
Vance has an inquisitive mind finding interest in just about anything that crosses his path. He has a deep desire to learn and immerse himself in a wealth of knowledge on a plethora of subject matters. Vance spends about five days a week in the gym doing cardio and lifting weights which keeps him very physically fit. In the future, his dream is to one day move to NYC, and Vance aspires to write a movie script. In the meantime, he is currently pursuing a bachelor's degree in business communications. We find Vance admirable as he is participates in the donor program because he truly wants to help those in need and make a positive impact on the lives of others.