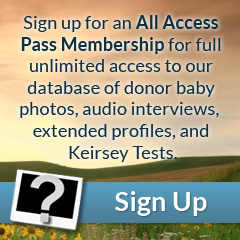 Eyes: Brown
Hair: Brown
Height: 5'11"
Weight (lbs): 154
Blood: A Rh+
CMV: -
Ethnicity: Caucasian, Russian
Jewish Ancestry: No
Education/Occupation: B. S. Chemical Engineering / Senior Software Development Engineer
Live Birth / Pregnancy Confirmed: Yes
Extended Testing: No
Genetically tested for: View
Vladmir's big, round, open brown eyes are the first things one notices upon meeting him. He has straight brown hair and thick brown eyebrows to match. His medium-tone complexion is clear and smooth. Vladmir stands just under six feet and maintains long, lean muscles. His nose is straight, and his facial features are all symmetrically placed, making Vladmir a most attractive young man.
Vladmir possesses many wonderful qualities and skills; for example, he fully renovated his 100-year-old house. His intellect and intelligence are vast, allowing him to enjoy a successful career in software engineering. He loves building things and also taking things apart to see how they function. He aspires to acquire enough wealth to one day give back to the small towns he grew up in. Vladmir exudes warmth, reason, and comfort. He is an extremely well-rounded donor.