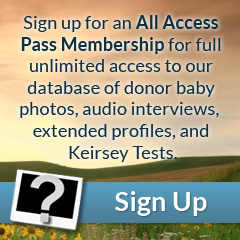 Eyes: Blue
Hair: Brown
Height: 6'03"
Weight (lbs): 165
Blood: A Rh+
CMV: +
Ethnicity: Caucasian, Irish, Scottish
Jewish Ancestry: No
Education/Occupation: A.S Electrical Engineering / Property Manager, Student
Live Birth / Pregnancy Confirmed: No
Extended Testing: No
Genetically tested for: View
Walden's light-brown hair and clear-blue eyes mesh perfectly with his fair skin. He is very tall, with long, lean muscles, as he stays physically active as much as he can, playing water polo and swimming often. Walden's smile welcomes those around him and makes his eyes sparkle. The rosy hue in his cheeks gives him a very lively, friendly appearance.
Walden is very ambitious, attending school and working at the same time. He volunteers in his community, caring and thinking critically about the world around him. He loves reading, painting, and being around others. Walden seems to put those around him at ease and is a natural at conversation. This donor is exceptionally well-rounded.