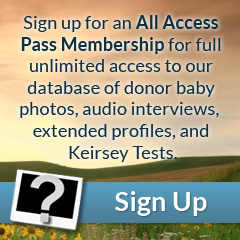 Eyes: Brown
Hair: Brown
Height: 6'00"
Weight (lbs): 180
Blood: A Rh+
CMV: -
Ethnicity: Caucasian, German, Scottish
Jewish Ancestry: No
Education/Occupation: BS Engineering / Design Engineer
Live Birth / Pregnancy Confirmed: Yes
Extended Testing: Yes
Genetically tested for: View
Yale has a long, lean build with a slender torso, strong shoulders and arms, and long legs. His face is very happy and expressive- he has a square face, a long slender nose, a dominant brow, and a large, cheerful smile. He has a medium skin tone with light olive undertones and rosy cheeks. He has short, thick dark brown hair and dark eyebrows. Overall, his features are very attractive!
Yale is a very smart, dedicated, and hard-working young guy. He excelled academically in high school and college, and has been working his way up the ladder as a Mechanical Engineer for an aerospace company, which he hopes to continue doing for many years. He is a family man, and chats often with the staff about his adorable daughter, whom he takes a lot of pride in. His hobbies are pretty typical of your Pacific Northwestern man- he loves hiking, camping, snowboarding, and off-roading. Yale is all around a super nice, intelligent, and motivated guy, and we think he'd be a great choice for any family!