January 2014
Calhoun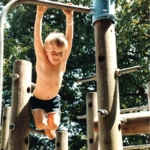 We are pleased to start 2014 with one of our best as the Featured Donor for January.
Calhoun, standing at 6 feet 6 inches, is one of our tallest donors. He is broad shouldered and well proportioned. Calhoun has deep blue eyes and wavy dark brown hair. His facial shape looks just like it did when he was a child and he still has the strong pointed chin. Calhoun tends to dress in dark clothing but can also frequently be seen in athletic gear.
Calhoun was a college basketball player. He is now an English Literature graduate student with aspirations to become a professor. He is incredibly witty and intelligent. Calhoun is very outgoing and personable, which makes him easy to become friends with. We asked Calhoun to pick some words that describe his character and he said," There will be contradictions inherent in these, but that is how I would characterize myself: cheerful, caring, attentive, outgoing, enthusiastic, joyful, giving, daring, bold, comfortable, understanding; on the other hand, pessimistic, worried, introspective, self-involved, cautious."
We love Calhoun's honesty and how well he is able to describe himself from a neutral stance. Calhoun would be a terrific choice as the genetic donor for your family. We recommend him highly.
WE OFFER 1 VIAL FREE WITH THE PURCHASE OF 1 VIAL OF OUR FEATURED DONOR
Maximum of 2 free vials per client with the purchase of 2 or more vials.
Applicable to US purchases only.
Offer only valid with the current donor of the month and does not apply to previous featured donors.
CALL US FOR MORE DETAILS!
Can't Decide? Call Us!
We are small enough to know the character of all our donors, but big enough to have the right selection for you! Let us help you select your Donor!