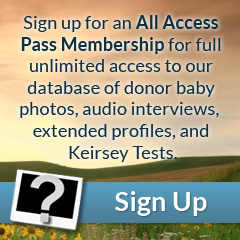 Eyes: Blue
Hair: Light Brown
Height: 5'10"
Weight (lbs): 161
Blood: B Rh+
CMV: -
Ethnicity: Czech, Italian
Jewish Ancestry: No
Education/Occupation: B.A. Finance / Student, Office Manager
Live Birth / Pregnancy Confirmed: No
Extended Testing: Yes
Genetically tested for: View
Adam is an attractive young man with big blue eyes and thick, light brown hair that are complemented by his medium skin tone. Adam has a smooth complexion with full pink lips and a straight nose. He keeps his hair short and his face clean shaven to show off his winning smile. Adam has a medium build and stays in shape by doing regular cardio and weight training.
Adam is a great combination of good looks, outgoing personality, artistic talent and athletic ability. Adam is currently studying finance, but in his free time he enjoys playing a variety of sports or musical instruments such as the drums or guitar. He also travels and has been to many different countries. Adam is incredibly sweet and when asked why he wants to be a donor, Adam answered, "I feel that helping people grow their family is a noble cause."
Genetic Testing
Over the years, we have expanded our genetic testing of donors as genetic knowledge and technology have advanced. As a result, not all donors have been tested for the same conditions or with the same methods. All donors have undergone genetic testing for Cystic Fibrosis, Spinal Muscular Atrophy and Karyotyping.  However, many donors have had more extensive testing performed.
This donor has been evaluated for carrier status of the listed conditions. A negative result reduces, but does not eliminate, the likelihood of the donor being a carrier. If you are a known carrier of a genetic condition please contact us, and we will provide a copy of the donor's test reports to your physician and/or genetic counselor.