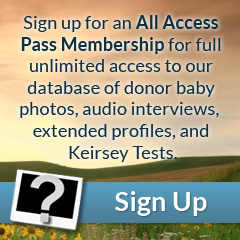 Eyes: Blue
Hair: Brown
Height: 6'01"
Weight (lbs): 200
Blood: A Rh+
CMV: -
Ethnicity: Caucasian, German
Jewish Ancestry: No
Education/Occupation: B.S. Chemical Engineering / Student, BioTech Office Manager
Live Birth / Pregnancy Confirmed: Yes
Extended Testing: No
Genetically tested for: View
Anakin has all the physical qualities of a very attractive young man. His olive skin and watery-blue eyes go together perfectly. He keeps his brown hair short and neat, and all of his facial features are symmetrically placed. Anakin also maintains an athletic physique, as he exercises regularly and is very health-conscious.
Anakin loves learning; he is currently a student going for a Bachelor's in Chemical Engineering and hopes one day to develop new forms of renewable energy. He remains close with his family, despite all of them being geographically spread out, and credits his parents with his values of self-awareness, charity, and humility. Anakin is an all-around fabulous young man and an excellent donor.