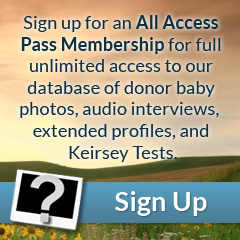 Eyes: Blue
Hair: Light Brown
Height: 6'03"
Weight (lbs): 196
Blood: A Rh+
CMV: +
Ethnicity:
Jewish Ancestry: No
Education/Occupation: B.S. Computer Science / Software Engineer
Live Birth / Pregnancy Confirmed: Yes
Extended Testing: No
Genetically tested for: View
This donor is always smiling, polite, and easy to talk to. Although he has masculine features, he has a very gentle face to go along with his athletic physic. It is always a pleasure to work with this donor as he is extremely easy to work with and has a positive nature. He is always very well dressed. Above all we notice his bright blue sparkling eyes and his nice smile. His reasons for donating make it clear to us that his heart is truly in the right place.