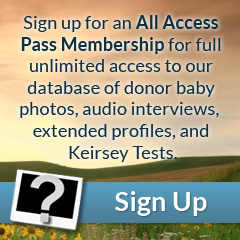 Eyes: Blue
Hair: Light Brown
Height: 6'02"
Weight (lbs): 220
Blood: O Rh+
CMV: -
Ethnicity: Caucasian, English, Irish, Italian
Jewish Ancestry: No
Education/Occupation: MBA Business Administration / Contracts
Live Birth / Pregnancy Confirmed: Yes
Extended Testing: Yes
Genetically tested for: View
Barney is tall with a medium build and broad shoulders. He has blonde to light brown hair, very bright blue eyes, and a fair to medium skin tone with pink undertones. He has a square face with a dominant brow line and a very nice, full smile.
Barney is a dedicated family man- he loves talking about his three children, and is very compassionate about the sperm donor process being able to help families experience the same joy he has with his own family. Barney's job in contracts at a large Aerospace company suits his entrepreneurial mindset- he has an active interests in stocks and investing as well. In his down time, he loves golfing, surfing, and spending time with his sister and her family. Barney is funny, easy-going, and ambitious. If you are looking for someone with these traits, Barney would be a great choice for you!
Genetic Testing
Over the years, we have expanded our genetic testing of donors as genetic knowledge and technology have advanced. As a result, not all donors have been tested for the same conditions or with the same methods. All donors have undergone genetic testing for Cystic Fibrosis, Spinal Muscular Atrophy and Karyotyping.  However, many donors have had more extensive testing performed.
This donor has been evaluated for carrier status of the listed conditions. A negative result reduces, but does not eliminate, the likelihood of the donor being a carrier. If you are a known carrier of a genetic condition please contact us, and we will provide a copy of the donor's test reports to your physician and/or genetic counselor.