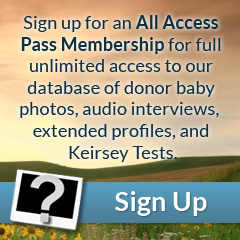 Eyes: Brown/Green
Hair: Light Brown
Height: 6'00"
Weight (lbs): 160
Blood: O Rh-
CMV: -
Ethnicity: Caucasian, French, German, Italian
Jewish Ancestry: No
Education/Occupation: BS Environmental Engineering / Student
Live Birth / Pregnancy Confirmed: No
Extended Testing: Yes
Genetically tested for: View
Blake's athletic frame, charming smile, and beautiful hazel eyes are the first thing you notice about him. Once you start talking with him, you will find a funny, kind, and charismatic man, perfectly suited to his good looks! Blake stands tall at 6'0" with long arms and legs. His medium brown hair is thick and wavy, and looks great against his fair complexion. Blake stays active playing basketball, soccer, and golf.  His natural athletic ability as well as his academic prowess make Blake a very well-rounded donor!
Currently studying for his Environmental Engineering degree, Blake is a driven and dedicated student. He always has a smile on his face, and a positive attitude to match. Noting a loving family, Blake's personality reflects a compassionate, caring person. His passion for helping the environment, as well as helping people start their own families, makes Blake truly special.