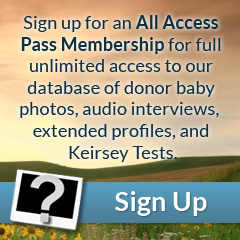 Eyes: Brown
Hair: Dark Brown
Height: 5'10"
Weight (lbs): 151
Blood: B Rh+
CMV: +
Ethnicity: Caucasian, Irish, Italian, Norwegian
Jewish Ancestry: No
Education/Occupation: B.S. Mechanical Engineering / Student
Live Birth / Pregnancy Confirmed: No
Extended Testing: Yes
Genetically tested for: View
Bodhi looks like the quintessential 'boy next door,' and is one of the most all-around attractive donors in our program. He has a slender but athletic build, strong shoulders, and a rugged square jawline. His Italian heritage comes through in his perfect, medium olive tone skin, thick, dark brown hair, and big, soulful, dark brown eyes.
Bodhi has always had a natural ability to do well in math and science, and is currently pursuing a degree in Mechanical Engineering. When he's not busy studying, he is an absolute outdoors fanatic, spending as much time as he can hiking, backpacking, bike riding, and generally enjoying the Pacific Northwest. He is also a gifted guitar player and has a very mature and well-educated taste in music. Socially, Bodhi is a natural extrovert and a great communicator. Our personal favorite thing about him is his constant upbeat, cheery, and positive attitude- his energy is truly infectious, and we are so happy he is in our donor program!