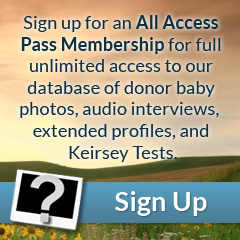 Eyes: Blue
Hair: Brown
Height: 6'06"
Weight (lbs): 230
Blood: A Rh-
CMV: +
Ethnicity: Caucasian, Dutch, French, German, Swiss
Jewish Ancestry: No
Education/Occupation: M.A. English Literature / Graduate Student, Teaching Assistant
Live Birth / Pregnancy Confirmed: Yes
Extended Testing: No
Genetically tested for: View
Calhoun, standing at 6 feet 6 inches, is one of our tallest donors. He is broad shouldered and well built. Calhoun has deep blue eyes and wavy dark brown hair. His facial shape looks just like it did when he was a child and he still has the strong pointed chin. Calhoun tends to dress in dark clothing but can also frequently be seen in athletic gear.
Calhoun was a college basketball player. He is now an English Literature graduate student with aspirations to become a professor. He is incredibly witty and intelligent. Calhoun is very outgoing and personable, which makes him easy to become friends with. We asked Calhoun to pick some words that describe his character and he said," There will be contradictions inherent in these, but that is how I would characterize myself: cheerful, caring, attentive, outgoing, enthusiastic, joyful, giving, daring, bold, comfortable, understanding; on the other hand, pessimistic, worried, introspective, self-involved, cautious." We love Calhoun's honesty and how well he is able to describe himself from a neutral stance.