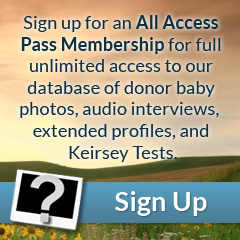 Eyes: Blue
Hair: Dark Brown
Height: 5'08"
Weight (lbs): 170
Blood: A Rh+
CMV: -
Ethnicity: Caucasian, Eastern Eurpoean, German, Irish
Jewish Ancestry: No
Education/Occupation: BA in Criminal Justice / Veteran Work Study
Live Birth / Pregnancy Confirmed: No
Donor Description
Cletus is very attractive. He has a proportioned round face, standard nose, full lips, and
beautiful blue/green bright eyes. Cletus has medium complexion that match perfect with his dark
brown hair. He keeps a clean-shaven face (besides his mustache) that shows off his dimples when he
smiles. Cletus is average height with a medium build. He stays in shape by doing regular exercise
such as cardio and body weight workouts.
Cletus is most proud of his career in the Air Force and is extremely dedicated to pursuing his
career within the Air Force to become a pilot. Cletus has an outgoing and up-front personality and
enjoys being
around people. He also enjoys being outdoors, going on hikes, camping and hunting.