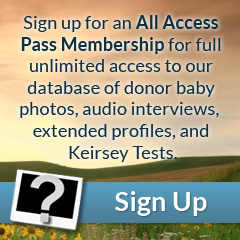 Eyes: Blue
Hair: Light Brown
Height: 6'01"
Weight (lbs): 140
Blood: AB Rh+
CMV: +
Ethnicity: Caucasian, German, Italian, Polish, Swedish
Jewish Ancestry: No
Education/Occupation: B.S. Business, Management Analytics / Student, Accounting Assistant
Live Birth / Pregnancy Confirmed: No
Extended Testing: Yes
Genetically tested for: View
Jonathan has a slender build standing a tall six foot one inch with light brown hair and a medium complexion that seems to glow. He has well-defined facial features with bright, blue eyes and a smile that lights up the room. Jonathan takes pride in his appearance always looking immaculately manicured with a clean shave and stylish attire.
Along with Jonathan's beauty also comes a genuinely charming person who can carry an enjoyable conversation. He will be graduating next semester with a Bachelor of Science degree in Management and Business Analytics and is proudly the first in his immediate family to obtain a college degree. Jonathan has also recently completed a prestigious internship with much success. We admire his determination and desire to succeed at anything he puts his mind to as it always has a positive outcome for him. Jonathan is ambitious and attractive with a winning personality that would make a top-notch donor!