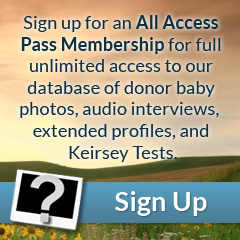 Eyes: Blue
Hair: Light Brown
Height: 6'01"
Weight (lbs): 140
Blood: AB Rh+
CMV: +
Ethnicity: Caucasian, German, Italian, Polish, Swedish
Jewish Ancestry: No
Education/Occupation: B.S. Business, Management Analytics / Student, Accounting Assistant
Live Birth / Pregnancy Confirmed: No
Extended Testing: Yes
Genetically tested for: View
Jonathan has a slender build standing a tall six foot one inch with light brown hair and a medium complexion that seems to glow. He has well-defined facial features with bright, blue eyes and a smile that lights up the room. Jonathan takes pride in his appearance always looking immaculately manicured with a clean shave and stylish attire.
Along with Jonathan's beauty also comes a genuinely charming person who can carry an enjoyable conversation. He will be graduating next semester with a Bachelor of Science degree in Management and Business Analytics and is proudly the first in his immediate family to obtain a college degree. Jonathan has also recently completed a prestigious internship with much success. We admire his determination and desire to succeed at anything he puts his mind to as it always has a positive outcome for him. Jonathan is ambitious and attractive with a winning personality that would make a top-notch donor!
Genetic Testing
Over the years, we have expanded our genetic testing of donors as genetic knowledge and technology have advanced. As a result, not all donors have been tested for the same conditions or with the same methods. All donors have undergone genetic testing for Cystic Fibrosis, Spinal Muscular Atrophy and Karyotyping.  However, many donors have had more extensive testing performed.
This donor has been evaluated for carrier status of the listed conditions. A negative result reduces, but does not eliminate, the likelihood of the donor being a carrier. If you are a known carrier of a genetic condition please contact us, and we will provide a copy of the donor's test reports to your physician and/or genetic counselor.
Since this donor is a carrier for 1 or more conditions, we require that you fill out the Informed Consent document found HERE
This consent form needs to be completed and sent to us, prior to shipment.