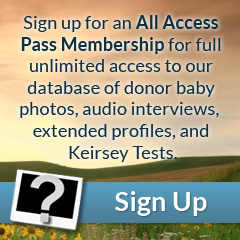 Eyes: Green
Hair: Brown
Height: 6'02"
Weight (lbs): 175
Blood: O Rh+
CMV: +
Ethnicity: Danish, German, Scottish
Jewish Ancestry: No
Education/Occupation: B.A. Philosophy, Neuroscience, Psychology / Volunteer
Live Birth / Pregnancy Confirmed: Yes
Extended Testing: No
Genetically tested for: View
Jovial is probably the best adjective to use when describing Morris. His smile goes from ear to ear, and his positive attitude is infectious. His soft green eyes sit nicely under thick, reddish-brown eyebrows and a full head of hair to match. Morris has an oval-shaped face and a dimple in his chin. Standing just over six feet, he is truly attractive.
Morris loves sports and staying active through yoga, running, and rock climbing. He is also sensitive and artistic, as he enjoys songwriting and playing guitar. Well-traveled, thoughtful, and fun-loving, Morris is an extremely well-rounded donor; I think this is illustrated perfectly in his answer as to why he wants to be a donor: "I like the idea of having a big family and being able to contribute and be a member of families I otherwise never could."