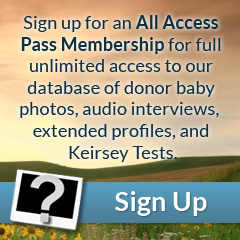 Eyes: Blue
Hair: Blonde
Height: 6'03"
Weight (lbs): 165
Blood: O Rh+
CMV: +
Ethnicity: Caucasian, German, Irish, Norwegian
Jewish Ancestry: No
Education/Occupation: A.A. Product Design / Cashier
Live Birth / Pregnancy Confirmed: Yes
Extended Testing: No
Genetically tested for: View
Othello is rather handsome. He is tall and thin, yet has broad shoulders. He has a fair complexion with a smattering of light freckles adorning his cheeks. Othello has twin dimples that show nicely when he smiles. He has jewel tone eyes and thick wavy beautiful strawberry blonde hair. He has masculine features that have a slight rounded edge overall. He dresses fashionably in an alternative yet preppy style.
Othello is very self confident and outgoing. He is friendly and chatty yet reserved. He is an artist and loves to work three dimensionally. He has an active imagination and eye for beautiful things. We asked Othello why he wanted to be a donor and he said, "My friend found much hope through a donor program which helped me see how necessary and helpful sperm banks can be." If you are looking for a spiritual easy going artist, then Othello might be a perfect donor choice for you!