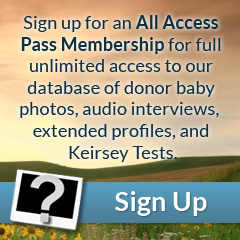 Eyes: Brown
Hair: Black
Height: 5'08"
Weight (lbs): 200
Blood: B Rh+
CMV: +
Ethnicity: Asian, Chinese
Jewish Ancestry: No
Education/Occupation: PhD and M.D. Family Practice / Family Practitioner
Live Birth / Pregnancy Confirmed: Yes
Extended Testing: No
Genetically tested for: View
Pierce has an incredible build and is handsome. He was an All American athlete and remains very physically fit to this day. He has the physique of a body builder and works hard to maintain it. Pierce has dark hair and dark eyes. He has full light pink lips and dimples. Pierce has a great creamy complexion that tans easily and symmetrical features. He is typically dressed in trendy t-shirts and jeans.
Pierce has a great sense of humor and is very intelligent. He has a strong work ethic and is a medical doctor. Pierce is kind and genuine which makes working with him very pleasurable.  We asked Pierce why he wanted to be a donor and he said, "I have a lot of friends both male and female that can't conceive. My children give me so much joy, so I can only imagine how hard is it for people that want to have children. And I want to help out any way I can to make that a reality." Pierce's heart is truly in the right place and we think he is a great donor.