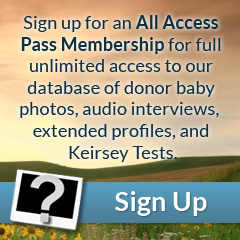 Eyes: Brown
Hair: Black
Height: 5'05"
Weight (lbs): 120
Blood: O Rh+
CMV: +
Ethnicity: Asian, Chinese
Jewish Ancestry: No
Education/Occupation: B.S. Computer Science / Student
Live Birth / Pregnancy Confirmed: No
Extended Testing: No
Genetically tested for: View
Renshu is 5'5" and weighs 120 pounds. He keeps in fantastic shape through consistent physical activity. His skin is a wonderful shade of deep-olive and his complexion smooth and clear. His black hair he maintains at a short length, and his thick, black eyebrows are nicely separated. Also very dark, his eyes resemble the shape of almonds and are complimented by long, black lashes.
Renshu loves traveling and has visited a great many countries himself. Extremely intelligent and thoughtful, Renshu absorbs the culture around him, regardless of location; although, when it comes to food he enjoys most his familial cuisine of Hong Kong. He plays several instruments and sports and has a tendency to be reserved. Quiet, gentle, intellectual, and humble, Renshu is an all-around good human being.