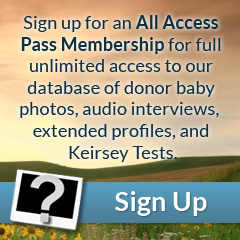 Eyes: Brown
Hair: Brown
Height: 6'03"
Weight (lbs): 215
Blood: A Rh+
CMV: -
Ethnicity: Caucasian, French-Canadian, Irish, Lithuanian, Slavic
Jewish Ancestry: No
Education/Occupation: B.S. Psychology, MBA, J.D. / Lawyer
Live Birth / Pregnancy Confirmed: Yes
Extended Testing: Yes
Genetically tested for: View
Aaron is tall and exercises regularly by staying active with activities such as running lifting, hiking, etc. He is tan with a medium skin tone and smooth complexion. Aaron keeps his face clean shaven to display the freckles that run across his nose and cheeks.  He has thick, wavy brown hair and matching brown eyes that twinkle when Aaron shows his shy smile. These features make Aaron a very good looking donor.
Aaron is very intelligent and hardworking with great ambitions. He is truly a man of many talents and is extremely handy and also play guitar. These talents come with a great personality that is both fun and outgoing. We love how patriotic Aaron is and how proud he is of the time he served the U.S. Army. When asked why he became a donor, Aaron responded "… Before making sure our family is complete, we decided it was now or never to help others start theirs by becoming a donor." Aaron is hardworking, caring and thoughtful and would make a great donor for any family.
Genetic Testing
Over the years, we have expanded our genetic testing of donors as genetic knowledge and technology have advanced. As a result, not all donors have been tested for the same conditions or with the same methods. All donors have undergone genetic testing for Cystic Fibrosis, Spinal Muscular Atrophy and Karyotyping.  However, many donors have had more extensive testing performed.
This donor has been evaluated for carrier status of the listed conditions. A negative result reduces, but does not eliminate, the likelihood of the donor being a carrier. If you are a known carrier of a genetic condition please contact us, and we will provide a copy of the donor's test reports to your physician and/or genetic counselor.