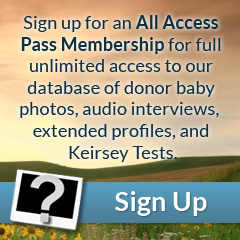 Eyes: Brown/Green
Hair: Brown
Height: 5'10"
Weight (lbs): 175
Blood: O Rh+
CMV: +
Ethnicity: Caucasian, Italian, Macedonian
Jewish Ancestry: No
Education/Occupation: B.S. Construction Management / Student, Sales
Live Birth / Pregnancy Confirmed: No
Extended Testing: Yes
Genetically tested for: View
Achilles has a muscular build standing five foot ten inches tall with a very athletic appearance as he was playing football. He has brown hair with hazel eyes, full-bodied lips, and a gorgeous smile making him an extremely attractive donor.
In addition to playing football, Achilles keeps his body fit with activities such as power lifting and running. He loves sports but also has an artistic side to him as well. One would describe him best as sweet, respectful, easy going, and personable. Achilles' good looks and charm make him a great match for a donor!