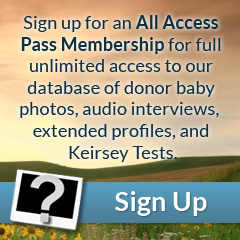 Eyes: Brown
Hair: Black
Height: 6'00"
Weight (lbs): 172
Blood: AB Rh+
CMV: +
Ethnicity: Brazilian, South American
Jewish Ancestry: No
Education/Occupation: B.S. Aeronautics / Personal Trainer, Massage Therapist
Live Birth / Pregnancy Confirmed: Yes
Extended Testing: No
Genetically tested for: View
Afonso is 100% Brazilian and 100% striking. He has very dark thick curly hair and big brown eyes. Afonso has a dark brown complexion and dark red lips. He has pearly white teeth that is often flashed in a smile or while laughing. Afonso is a personal trainer and is in amazing shape. He tends to wear workout clothes or trendy t shirts and fitted jeans.
When Afonso walks in, everyone knows. He has an exuberant personality without being overwhelming. He is very charming but also incredibly sweet. Afonso is upbeat and has a great sense of humor. Afonso is genuine and true to himself no matter what he is doing. We absolutely love Afonso and highly recommend him!