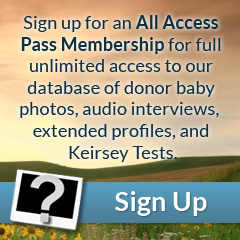 Eyes: Brown/Green
Hair: Brown
Height: 5'07"
Weight (lbs): 145
Blood: A Rh+
CMV: +
Ethnicity: Caucasian, English, French, German, Irish, Native American
Jewish Ancestry: No
Education/Occupation: Ph.D. in Geology / Geologist, Geological Consultant
Live Birth / Pregnancy Confirmed: Yes
Extended Testing: Yes
Genetically tested for: View
Alfie has big brown/green eyes, handsome thick, curly brown hair, a long oval face, and a barely-detectable cleft chin. He has a small to medium build, with lean muscles and a slender torso. He is always very polished and well-dressed, and we love his thick-rimmed black glasses!
Alfie is extremely intelligent; he has a PhD is Geology and is currently self-employed as a Geological consultant, assisting large and small organizations with the science of tectonic plate shifting and the threat and impact of earthquakes, as well as earthquake preparedness. His hobbies include drawing, writing, cooking, and building things, so he is also very creative and artistically inclined. He's admittedly not a big fan of organized sports, but is an avid cyclist, and also enjoys kayaking and whitewater rafting around the PNW. If you are looking for someone who is brilliant, career-oriented, and cultured, Alfie would be a great choice for you!
Genetic Testing
Over the years, we have expanded our genetic testing of donors as genetic knowledge and technology have advanced. As a result, not all donors have been tested for the same conditions or with the same methods. All donors have undergone genetic testing for Cystic Fibrosis, Spinal Muscular Atrophy and Karyotyping.  However, many donors have had more extensive testing performed.
This donor has been evaluated for carrier status of the listed conditions. A negative result reduces, but does not eliminate, the likelihood of the donor being a carrier. If you are a known carrier of a genetic condition please contact us, and we will provide a copy of the donor's test reports to your physician and/or genetic counselor.