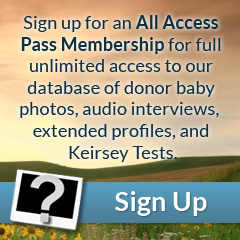 Eyes: Blue
Hair: Light Brown
Height: 6'02"
Weight (lbs): 170
Blood: O Rh+
CMV: -
Ethnicity: Belgian, Danish, Dutch, Irish, Scottish
Jewish Ancestry: No
Education/Occupation: Exploring opportunities
Live Birth / Pregnancy Confirmed: No
Extended Testing: No
Genetically tested for: View
Alvin is tall with a lean frame. He regularly exercises by playing sports, running and lifting weights. He has very curly, light brown hair and clear bright blue eyes. He keeps his face clean shaven to display masculine and slightly rounded facial features. All these attributes combined make Alvin a very attractive young man.
Aside from his good looks, Alvin is also athletic, intelligent and very well-traveled. He tends to excel in all aspects of life, especially school and athletics. While spending a semester in Brussels, he took the opportunity to travel Europe and spent five days backpacking through the Highlands on his own. When asked why he wants to be a donor, Alvin answered, "The more I consider it, the more cool I think it is that I can help someone or a couple start a family. If you're actively seeking a donor, this is something important to you that you're going to take a lot of time to explore finding the right donor. It should be a perfect fit and you shouldn't settle. It's awesome that in some way I could be the missing puzzle piece that allows that to happen." Alvin is a fabulous donor who is both adventurous and even keeled.