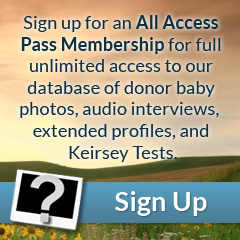 Eyes: Blue/Green
Hair: Light Brown
Height: 6'02"
Weight (lbs): 165
Blood: B Rh+
CMV: +
Ethnicity: Caucasian, English, Irish, Norwegian, Scottish
Jewish Ancestry: No
Education/Occupation: BS - Kinesiology / Personal Trainer
Live Birth / Pregnancy Confirmed: No
Extended Testing: Yes
Genetically tested for: View
Anderson's large striking blue/green eyes, fair skin, and dark hair immediately draw you to him. His welcoming smile and sweet disposition make him even more attractive. Anderson stands tall at 6'2 and keeps his athletic build by working out and eating right. In college Anderson studied Kinesiology, the study of mechanics of body movement. This passion transferred well into his current day job, working as a personal trainer and strength coach.
Anderson is a friendly, personable, and positive man. He is outgoing and kind-hearted. His hobbies include music, cooking, and teaching. You can find Anderson relaxing by playing the guitar and being creative. Anderson's strong, loving family has molded his personality and he thanks them for giving him the ability to love and support others in the world. Anderson's excitement for the donor program and helping people start their own families makes him and excellent donor and a great choice.
Genetic Testing
Over the years, we have expanded our genetic testing of donors as genetic knowledge and technology have advanced. As a result, not all donors have been tested for the same conditions or with the same methods. All donors have undergone genetic testing for Cystic Fibrosis, Spinal Muscular Atrophy and Karyotyping.  However, many donors have had more extensive testing performed.
This donor has been evaluated for carrier status of the listed conditions. A negative result reduces, but does not eliminate, the likelihood of the donor being a carrier. If you are a known carrier of a genetic condition please contact us, and we will provide a copy of the donor's test reports to your physician and/or genetic counselor.
Since this donor is a carrier for 1 or more conditions, we require that you fill out the Informed Consent document found HERE
This consent form needs to be completed and sent to us, prior to shipment.