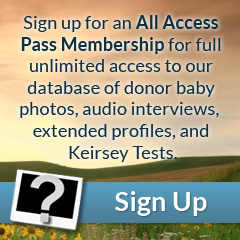 Eyes: Brown
Hair: Light Brown
Height: 5'10"
Weight (lbs): 175
Blood: A Rh+
CMV: -
Ethnicity: Caucasian, Chilean, German
Jewish Ancestry: No
Education/Occupation: A.A. Business, B.A. Political Economy
Live Birth / Pregnancy Confirmed: Yes
Extended Testing: No
Genetically tested for: View
Antonio is outgoing and personable. He is a very open and honest person with an energetic attitude. Antonio easily becomes the center of attention and is a natural born leader. He is a hard worker and wants to be a politician or lawyer in the future in order to positively affect as many people as possible. He wants to make a positive impact on the world and we think Antonio has the drive and personality to accomplish his goals!
Antonio has a big bright smile and beautiful teeth. He has large brown eyes and thick hair that has a tiny wave. He is very active and enjoys playing sports as well as running. We asked Antonio to describe his relationship with his family and he said, "I was raised entirely by my mother and grandparents. My father was not in the picture at all. I learned my hard work ethic watching my single mother, and the kind heart of my grandmother and apply those characteristics to my daily life. I've always been taught that I can do anything I want if I apply myself and that there's no such thing as a free lunch. Every day is another opportunity to better yourself and the world."