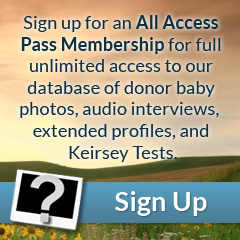 Eyes: Brown
Hair: Black
Height: 6'00"
Weight (lbs): 170
Blood: A Rh+
CMV: -
Ethnicity: Mix, African-American, Irish
Jewish Ancestry: No
Education/Occupation: B.A. Social Sciences / Student/Personal Trainer
Live Birth / Pregnancy Confirmed: Yes
Extended Testing: No
Genetically tested for: View
Apollo has big brown eyes and long lashes. He keeps his black hair short. Apollo maintains a smooth and clear complexion with a medium skin tone. His face is oval and he carries a nicely defined chin. Apollo stays in impeccable physical shape, as he currently works at a fitness club. With a great smile that reveals straight, white teeth and a sparkling personality, Apollo makes for quite an attractive donor.
Apollo loves sports, working out, and spending time with friends and family. This donor is ambitious and works hard. He attributes his strong work ethic to his mother, who raised him on her own. Because of this he still shares a very strong bond with his mother, and values family and connectedness. Apollo is down to earth, handsome, and quite charming.