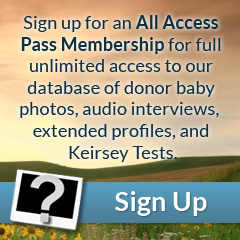 Eyes: Brown
Hair: Dark Brown
Height: 6'02"
Weight (lbs): 185
Blood: B Rh+
CMV: +
Ethnicity: East Indian
Jewish Ancestry: No
Education/Occupation: BDS (Indian DDS) / Student
Live Birth / Pregnancy Confirmed: Yes
Extended Testing: Yes
Genetically tested for: View
Arjun has an incredibly sweet and soft spoken nature. Every time he is in our office, Arjun personally greets everyone he sees with a friendly smile and a warm hello. Arjun is very handsome- he has a beautiful medium complexion that pairs well with his large, deep brown eyes and thick dark brown hair. He has a trim oval face with a square jawline, thick dark eyebrows, and an amazing, full smile. He stands tall at 6'2 and sports a fit and lean frame. Arjun loves to stay in shape and keeps fit by playing handball.
Arjun was a Dentist in India, and now living in the states, is studying to become a certified dentist here as well. He is extremely smart and well-spoken, which comes across the moment you meet him. Arjun's striking good looks and endearing personality make him an excellent donor!