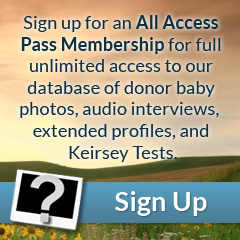 Eyes: Blue/Green
Hair: Light Brown
Height: 6'06"
Weight (lbs): 230
Blood: O Rh-
CMV: -
Ethnicity: Caucasian, Dutch, Hungarian
Jewish Ancestry: No
Education/Occupation: B.S. Engineering / Student
Live Birth / Pregnancy Confirmed: Yes
Extended Testing: No
Genetically tested for: View
Arnold is a presence in any room, standing at 6'6" with broad shoulders and long, lean muscles. His clear blue-green eyes mesh very well with his light-brown hair and medium skin. Arnold's facial features are all symmetrical, and his smile is big and bright. He absolutely has "all-American" good looks.
Arnold loves staying physically active and fit. He enjoys being in nature, going for long walks and hikes. Arnold also cares a lot about what he puts in his body and eats extremely healthily. He is very social and always is up for a good conversation, showcasing his extroverted personality. Arnold became a donor to help those achieve their dreams of parenthood that might not otherwise come true.