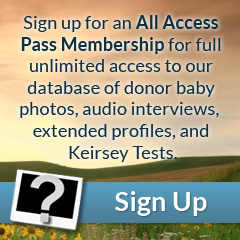 Eyes: Green
Hair: Light Brown
Height: 6'00"
Weight (lbs): 160
Blood: A Rh+
CMV: -
Ethnicity: Caucasian, German, Norwegian, Portuguese
Jewish Ancestry: No
Education/Occupation: B.A. Business Administration / Student
Live Birth / Pregnancy Confirmed: No
Extended Testing: Yes
Genetically tested for: View
Arthur is very attractive with light brown hair and beautiful green eyes. He keeps his hair short, but when it grows out you can see how wavy and thick it is. Arthur is very active; engaging in soccer, skateboarding, weightlifting and other activities on a regular basis. All these forms of exercise give him well-defined muscles. Arthur also has a very straight, white smile that he shows off whenever he comes into the office.
Arthur is incredibly sweet with a very mellow and laid back personality. He is a little shy and quiet at first, but will open up after a short period to display his truly relaxed and kind personality. Arthur is also athletic, and played a wide range of sports in high school. Aside from his good looks and athletic prowess, Arthur is also very sweet, sincere and has an amazingly close relationship with his family and happily acknowledges the hand they played in shaping the amazing young man he is today.